To this day, that previous saddle remains one the prettiest saddles that I have ever built. It shows years and miles of service, but it also shows the great care and pride of ownership that a cowboy can have for his gear.
---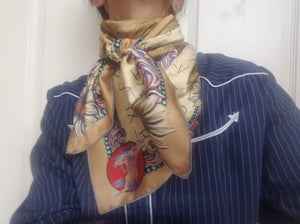 True Confession - Roping was my first love.  My Dad had a roping arena in our back yard when I was a very small child, and I can still remember being completely taken with the cowboys and their roping skills. NFR qualifier Doyle Gellerman roped at our place as a teenager, and I couldn't imagine a better sport to participate in.  Roping still calls me, but it shares my heart with carving leather, which I have pursued with more focus over my lifetime.  My desire to share the beauty of carved leather on products both functional and beautiful, and beyond...
---
"Josie and the Outlaw" have become the central figures in our "Women of the West" series.  Here's a little back story of how it all began..... Josie is the character that grew from a dream to create a leather carving with a figure that expressed a strong female in a high action pose. Several years of looking at photos led me back in history to a leather carving by the late F.O. Baird. Mr. Baird was a supreme leather artist who saw a need for leather pattern and design inspiration. He published a book titled "Design Artistry" in 1955. This...
---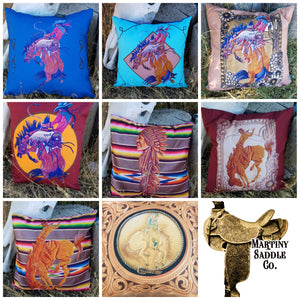 Welcome to a new category on our website! " One Of A Kinds " has been updated to "Home Decor & More"! Here's our latest addition of brand new Western-themed pillows!  Add a pop of color to your decor with these fun original designs! Each design is created from an image of hand-carved leather to produce a totally unique look, and each pillow features a different design on front and back, so you get double the decor options!  Perfect for your Western home, cabin,  or living quarters trailer! Home Decor & More
---
Once upon a time there was the cutest lil' red roan you ever did see!  His name was Scorpion and he was the horse my heart loved to ride!  He was small but mighty and ALWAYS gave 110%!  Trust, learning, gaining confidence and all the things that come with a truly great partner!  He gives you wings and takes you places you never thought you'd go.  He goes with you when he doesn't want to and gets you out of the tough spots that you got both of you into.     Now Lil' Red Roan has become an ongoing adventure...