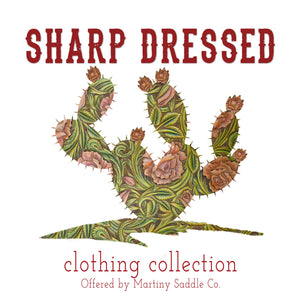 Now featuring new clothing line!
Enjoy our new line of apparel, "Sharp Dressed" offered by Martiny Saddle Co.
Shop Now
Howdy Folks
Welcome to our website and on-line store of unique, hand made Western gear and personal items. While our main focus is Custom-order Western Saddles, we also like to stretch our creative nature into tack, including headstalls and spur straps. The bulk of our business is custom items, but we usually have something unique on hand for immediate purchase. Be sure to visit us on Facebook at Martiny Saddle Co. to see examples of our work. Thanks for stopping by!